Welcome to Kolbäcks Inn
Publicerad
24 augusti 2017
Skapad den
24 augusti 2017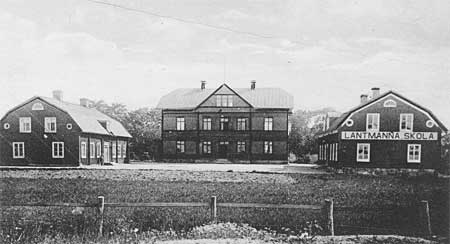 Kolbäcks Inn is a 3-star traditional hotel, operating in unbroken tradition since 1670, next to Kolbäck river and 350 meters from Kolbäcks railway station. Itinerary; approx. 8 min. from Strömsholm and 20 min. from Västerås City.
We serve a lunch buffet during the weekdays, and a la carte during weekends and evenings in our restaurant. During the hot summer months, you can enjoy your meals on the terrace.
We also accept bookings for conferences, weddings or private parties in a historical setting with stunning view over the beautiful garden.
For the active and culturally interested people, we can offer various activities like historical tours at Strömsholms Castle or in our historical buildings, yoga, rent a boat, etc.
Our phone is staffed 24 hours if you want to book or have questions, +46 (0)220-403 60
OUR PHILOSOPHY
Kolbäcks Inn, turn to those who appreciate an environment of past times. The inn is available for anyone looking for a restaurant and a hotel that carries its own character, with an atmosphere of old days, festivity, glamour and professional staff that cares about you. We want you as our guest to get away from all everyday stress and be able to fill your senses with experiences for both body and soul.
We can offer you activities such as yoga, massage, sauna and hiking. Vision and hearing may also be its art, exhibitions, music, National Day celebration, the Medieval Market and theaters that we occasionally organize. Kolbäcks Inn, has for centuries been home to ordinary people and prominent guests. We are members of the Swedish Hotel and Restaurant Association - Visita.
This page is not sufficient to describe our philosophy on how our operation will be, you must experience the place.
OUR ROOMS
Kolbäcks Inn, has 17 rooms. The rooms are accommodated in historical surroundings in the main building and both of the wings. The hotel has 34 beds in single and double rooms. We also have a bridal suite at your disposal.
Our rooms are personally decorated with charm and dating back to the 1700's. All rooms are of hotel standard of which seven of the rooms feature newly renovated bathrooms and are of 3-star standard.
With us you get relaxation, read a good book or newspaper at the pier, rent a canoe or subscribe yourself to our yoga class or simply enjoy the beautiful countryside next to Kolbäck river. All public and private spaces are non-smoking.
We can offer an exquisite lunch (weekdays) or dinner (evenings and weekends) in a historic setting. Do you have any special requests such as allergies, we try to accommodate you.
Twin rooms with shower / WC, incl. breakfast. 1100 SEK / night Single room with shower / WC, incl. breakfast. 500 SEK / night Twin rooms with shared WC / shower, incl. breakfast. 800 SEK / night Single room with shared toilet / shower, incl. breakfast. 500 SEK / night Superiour doubleroom "The Gallery" with WC / shower, incl. breakfast. 1500 SEK / night Suite incl. breakfast. 1950 SEK / night Extra beds: 400 SEK
ONLINE BOOKING
Now you can book a room directly on our website and Facebook. Payment Methods You can pay by credit card or in cash during your stay. You always pay at check-in. We also invoice companies. Hours cancellation Reservations that are not canceled by 18:00 the day before will be charged a full day's rental.